Bugfest is the UK's leading entomological experience and entertainment provider.
We can offer a great many ways to bring the world of natural history and exotic animals to you. With a wide variety of service options and packages, we have something for everyone. You can find out everything that Bugfest has to offer at our online hub @https://www.bug-fest.com
Covering Bugfest visits within the Yorkshire, and Midlands area of the UK, I am one of many bug-loving Bugfest educators up and down the UK, who are dedicated to bringing our passion and knowledge of insects, arachnids, and many more of the world's creepy crawlies to people of all ages and generations.
My name is Mitch and I am passionate about everything bug related with a special interest in mantises.
Having been a keeper and breeder of insects and spiders for over 30 years you could say I'm mad about bugs and love nothing more than studying and talking about these amazing animals to anyone who'll listen so really enjoy giving presentations.
My specialist subjects are the vital roles that bugs play within the natural world and how they have evolved strategies and mechanisms allowing them to be some of the most successful classes of animals this planet has ever known.
Along with Special Educational Needs experience I have an academic research background in Molecular and Cellular Biology having studied to PhD level.
I also gained many years of University lecturing experience which is useful for my Presentation work
Exotic Pet Presentations are a unique chance to meet face to face with exotic animals such as Praying Mantis, Spiders, Scorpions via my talks / lectures / displays.
The presentations are ideal for such as
Educational Presentations (Schools, Colleges, Universities etc….)
Corporate – Days/Presentations/Team Building
Birthday Parties with a difference
Charity events
Country Fairs
Festivals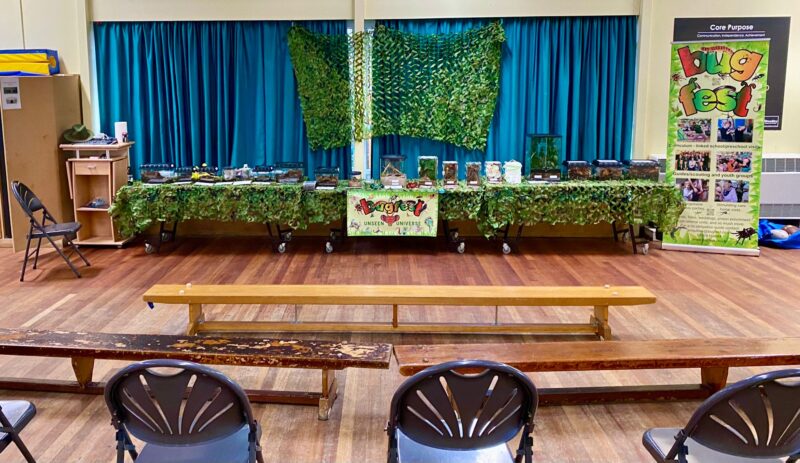 Not only are Exotic Pet Presentations educational but also funny and can be specifically aimed at relevant audiences so that there is something that both children and adults can relate to.
This is an ideal opportunity for both children and adults to learn about and interact with my unusual and exotic animals.
The programme is so versatile that I can tailor it for specific requirements.
Find out their habitats and what they eat, conservation, and the importance of preservation.
Zoom Presentations are another option.
Please visit the BUGFEST website @https://www.bug-fest.com to see everything bugfest has to offer, OR/ CONTACT BUGFEST directly for further information.